Tromsø, Norwegen · Strukturen & Architektur
Formensprache über dem Polarkreis
Mein Urlaub in Norwegen hat mich wirklich begeistert, perfektes Sommerwetter über dem Polarkreis, wer hätte es gedacht. Traumhafte Landschaften und interessante Architektur und Strukturen in Tromsø (gesprochen Tromsö). Einige Bilder möchte ich euch nicht vorenthalten, geben sie zumindest für Kompositionen und Formensprache spannende Inspirationen und Ideen.
Beeindruckt hat mich der pragmatische Gedanke der norwegischen Architektur getreu dem Motto "Hauptsache es hält". Dadurch kommen lustige und manchmal abstruse Formen zustande, die wir mit dem Prädikat "hässlich" nicht beachten oder hinsichtlich der Stadtentwicklung abreißen würden.
—————
Shapes above the polar circle
My recent holiday in nord Norway was really fascinating me. Not only did we have perfect summer weather speaking of around 20 – 25 degrees with almost 24 hours of northern sun but also beautiful nature a lot of sports and interesting shapes and structures in Tromsø. Some of the pictures I don't want to hide from you as they might be a good inspiration for compositions and finding shapes.
The pragmatic way of thinking of norwegian people kind of impressed me. In the case of architecture that would be something like "The main point is that the buildings stands, doesn't matter how it looks". Thus a lot of strange looking buildings and structures are emerging which we would have probably already broken down or at least claimed as ugly.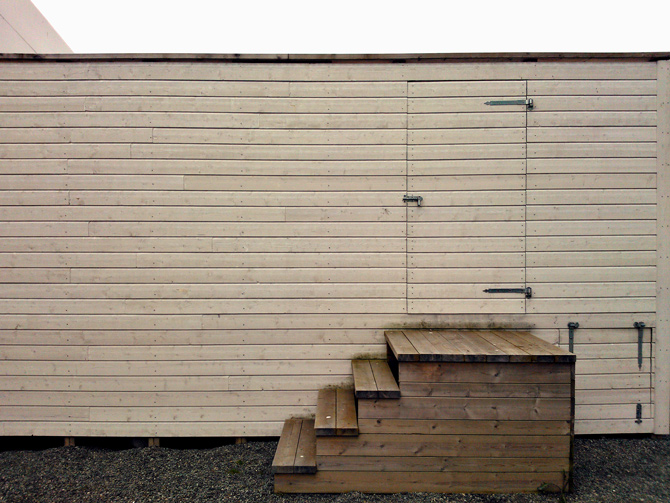 An vielen Stellen in Tromsø fallen die monochromen Farben der Gebäude ins Auge. Ob arktisch kühle Blau- oder Weißtöne oder zartes Rosa das an die zaghaften Blümchen in der nordnorwegischen Landschaft erinnern. //
A lot of buildings in Tromsø show monochrome colors. Weather in arctic icy blue or white shades or soft rose colors like some little flowers in the cold arctic Norwegian countryside.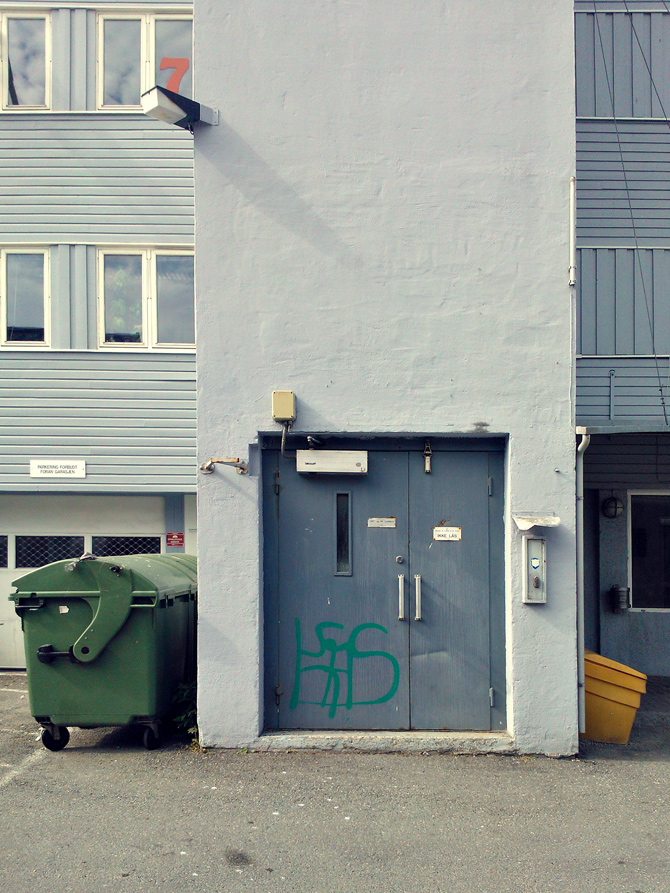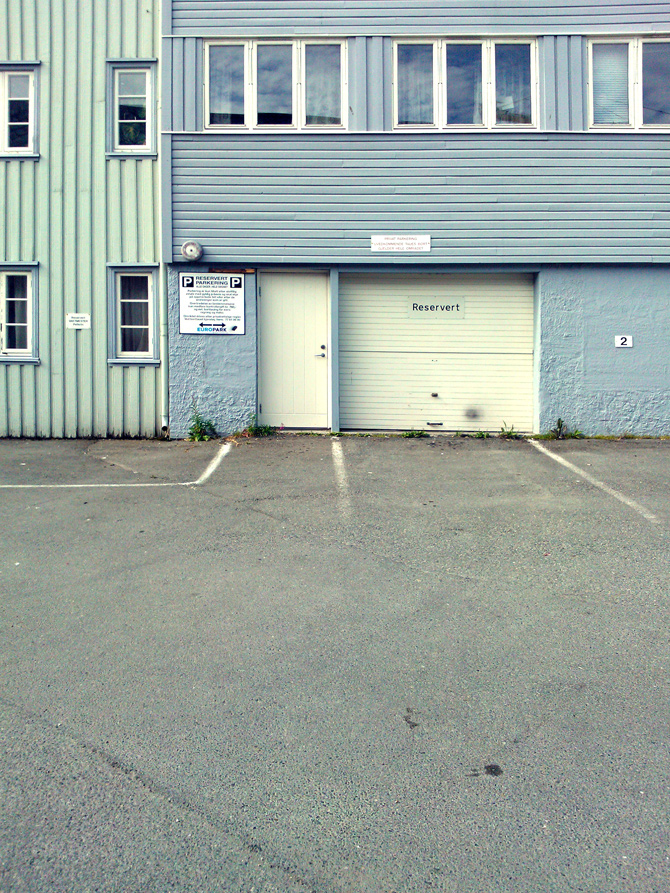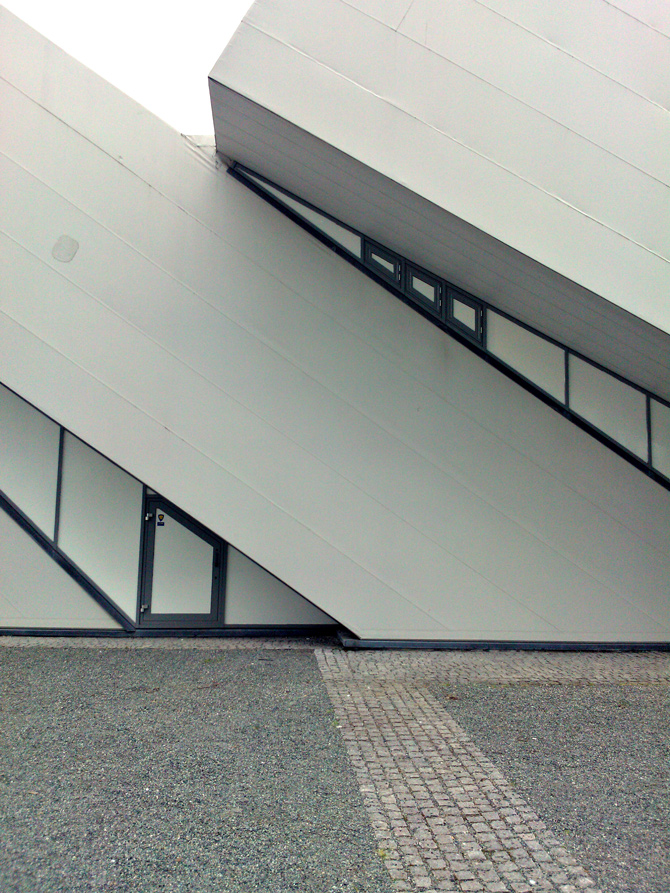 Fast schon zu spitze Winkel und Dreiecke finden sich des Öfteren in Tromsø und geben dem Stadtbild etwas Dynamisches und gleich der geografischen Lage etwas spitz Kühles. //
Almost too sharp show triangles on buildings in Tromsø but on the same time giving the city scenery something dynamic and according to the geographic location some arctic coolness.
Teilweise scheinen die Linien und Dreiecke strahlenförmig angeordnet zu sein, wie bei dem blauen Haus im unteren Bild. //
Lines and triangles seem to be displayed like rays on buildings and gates.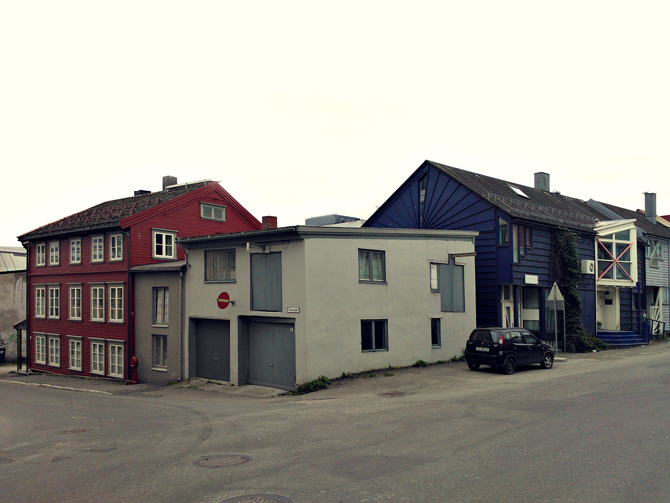 Bei allen Bauwerken dominiert die Linie. Durch die Wiederholung der Linie und der Strukturen entstehen so eindrucksvolle Kompositionen, die mich begeistern. //
With all buildings the line is the dominating shape. Through repetition of lines and structures impressive compositions are emerging, which I really like.