Seidentücher · Inca Starzinsky, London
Zum Anbeißen: Obst und Gemüse als Design-Druck
25.06.2014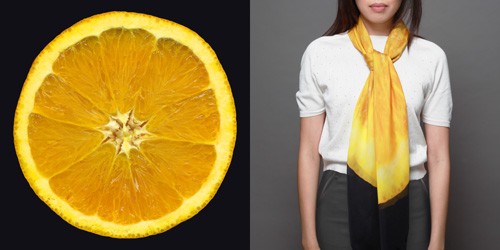 Die Seidentücher von Inca Starzinsky finde ich so richtig zum Reinbeißen. Die Farben der Digitalprints leuchten herrlich auf dem schwarz seidenen Untergrund. Der Digitaldruck sei Dank für diese fotorealistischen Abbildungen auf Textilien. Vor allem auf sehr glatten Flächen kommt die Farbwirkung am besten zur Geltung. Inca Starzinsky hat sich für die Serie "Slices" für Seide entschieden.
Während die Obst- und Gemüse-Prints nur im aufgefalteten Zustand sichtbar werden formen die Seidentücher getragen um den Hals abstrakte Farb- und Formmuster, die toll zu schlichten Outfits in schwarz und weiß kombiniert werden können und tolle Farbakzente setzen.
Ich wüsste so spontan nicht für welches der Seidentücher ich mich entscheiden würde. Die Zwiebel? Die Avocado oder doch die Orange?
Wie würdet ihr euch entscheiden?

Inca Starzinsky entwickelt ihre Ideen ständig weiter so finden sich aktuell feine bedruckte Baumwolltücher in ihrem Onlineshop. Auf der Webseite der Desingerin Inca Starzinsky findet sich ihr Portfolio mit vielen weiteren kreativen Designideen.
Neben Seidentüchern entwirft Inca auch Schmuck aus Acrylglas, das sie bedruckt und in Formen ausgeschnitten zu Ketten zusammenfügt. Auch hier entstehen fröhlich bunte Ketten, die zu schlichten edlen Outfits eine tolle Kombination ergeben.
Hungry? Fruits and vegetables as designer print on silk
I would definitely bite into the silk scarves of Inca Starzinsky right away if I were hungry – they look so real and delicious! The colors of the digital textile prints shine beautifully bright on the dark background of silk. Thanks to the technique of digital printing it is possible to transfer photorealistic designs onto textile surfaces. Especially very smooth surfaces like silk which Inca has chosen for her collection "slices" are suited to let the colors appear brilliant.
Being unfolded, the scarves show the fruit and vegetables prints in full size but being worn, the prints transform into some abstract color pattern which look great combined with simple minimalistic outfits in black and white.
I wouldn't know which of the silk scarves I would choose. The onion? The avocado or rather the orange?
Which one would you choose?
Inca Starzinsky permanently develops her ideas and designs. At the moment she focuses on cotton scarves which she sells in her online shop. Besides the scarves you will find her portfolio and a lot of other creative design ideas on her website of the designer Inca Starzinksy. I also lover her necklaces made out of printed acryl glass.