Schmuck-Geschenk · Die Praktische
In 5 Schritten zum perfekten Schmuck-Geschenk
– Die Praktische
✔

Die pragmatisch Praktische

Ihr Alltag ist gut organisiert und die Zeit knapp. Die pragmatisch praktische Freundin überlegt gut wofür sie ihre Zeit investiert und ihr Geld ausgibt. Dennoch ist sie schönen Dingen nicht abgeneigt, aber verschwendet nicht unnötig Zeit, stundenlang shoppen zu gehen oder in Online-Shops zu stöbern. Sie kauft Kleidung und Accessoires nach dem Zufallsprinzip, wenn gerade etwas besonders gefällt oder der Preis stimmt. Bloße Dekoration und glitzerndes Geschmeide lehnt die Pragmatische ab, Schmuck soll praktisch sein, er darf nicht unangenehm zu tragen sein oder Fäden am Pullover ziehen.

Mit schlichten minimalistischen Schmuckstücken kannst du nichts falsch machen, zeitlos und elegant sollten sie jedoch sein: Ein Stück, das man weitervererben würde. Experimentelle, innovative Schmuckstücke, die leicht zerbrechlich sind und nicht für die Ewigkeit halten solltest du lieber meiden. Von den folgenden Vorschlägen kannst du dich für ein Schmuck-Geschenk für deine Freundin inspirieren lassen.
Monomer, Deutschland – Innovatives Schmuckdesign aus dem 3D-Drucker
Photos © a-ce-soir.com
Kelly Wearstler, Beverly Hills – Geometrie in Ring-Form
Photos © Kelly Wearstler
Pia Sommerlad, Gießen – Schlichte Ringe mit dem gewissen Etwas
Photos © Pia Sommerlad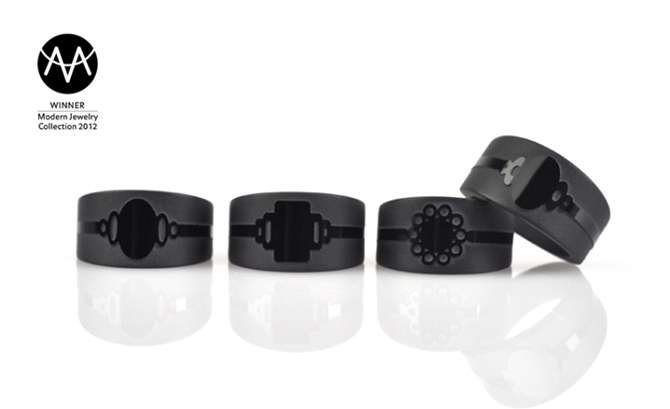 Photos © Jennifer Fisher Jewelry
Trine Tuxen Jewelry, Kopenhagen – Zeitlos elegante Brillianten
Photos © Trine Tuxen Jewelry
Weitere Schmuck-Typen
The Uncomplicated
Her everyday life is well organized and time is rare. The pragmatic woman thinks well about how to spent her time and her money. Nonetheless she likes beautiful products but doesn't waste a lot of time for going shopping or searching online shops. She buys pragmatically where she sees something nice for a good price. Often she goes shopping during the sale. Decoration and shiny things she dislikes, jewelry should be comfortable and not too fancy, just like a nice completion of the uncomplicated outfit she is wearing.
With simple minimalistic jewelry you can't do wrong. The jewels should be timeless and elegant, one piece that you can pass on to some daughter. Experimental jewels or pieces that could break easily probably won't be favored by the uncomplicated pragmatic girl-friend.
Find the other jewelry styles