Porzellan-Ringe · Anna Kiryakova, Berlin
Was lässt sich aus dem weißen Gold noch machen als Meissner Tafelgeschirr? Märchenhafte Porzellan-Ringe
15.11.2014
Als ich die Porzellan-Ringe von Anna Kiryakova das erste Mal sah, war ich sofort ganz begeistert von der Experimentierfreude der Designerin und dem Aussehen des edlen Materials. Wie ihr vielleicht schon mit bekommen habt, lösen innovative Materialverwendung und ungewöhnliche Kombinationen Begeisterung in mir aus.
Bei Anna Kiryakova fing alles mit Ringen aus reinem Porzellan an, in verschiedenen Formen und Größen, mit Glasur in unterschiedlichen Farben, mit und ohne Struktur. Aus den Anfängen stammt auch dieses Lieblingsstück der Künstlerin, den sie selbst am liebsten trägt und der auch zu meinem Lieblingsstück geworden ist, nachdem ich alle Ringe in ihrem Studio durchprobiert hatte. Das Material kann hier in seiner Eigenschaft voll wirken, der Porzellan-Ring ist auffallend und dennoch minimalistisch und zeitlos.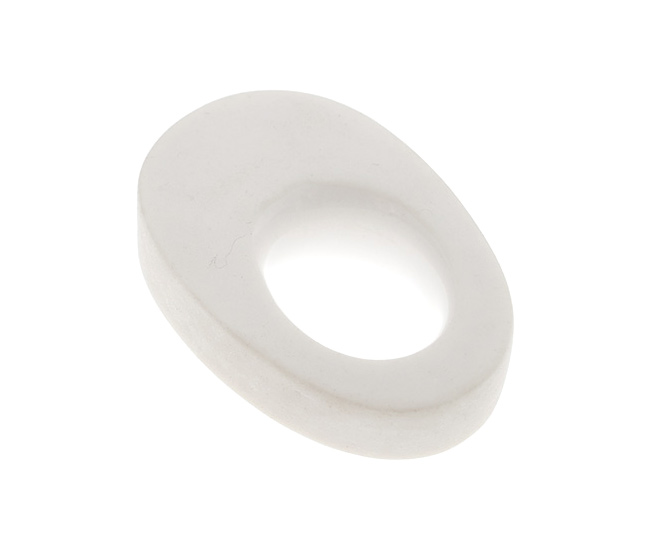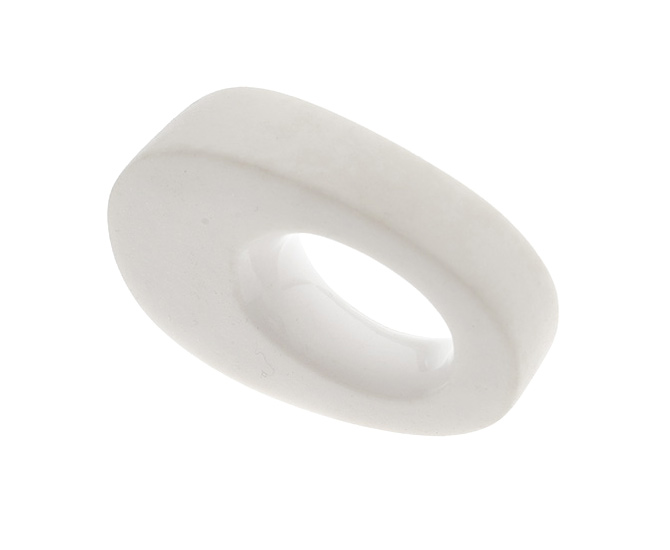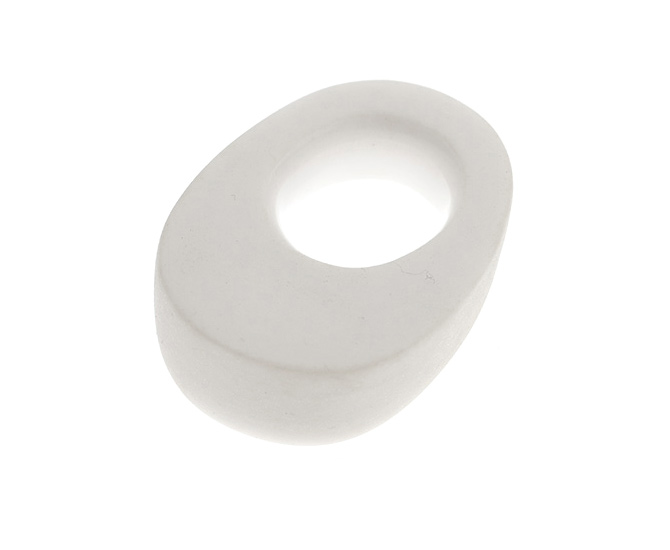 Photos © Anna Kiryakova
Getragen fühlt sich das Material toll an, die Porzellan-Ringe nehmen schon bald die Körperwärme an. Das Porzellan selbst fühlt sich sehr weich, ja gar samtig an und ist überraschender Weise sehr viel leichter, als man es vom Anblick her erwarten würde. Dennoch bleibt Porzellan ein zerbrechliches Material, was Anna Kiryakova auf die Idee mit den Gummischläuchen brachte. So fasste sie kurzer Hand den zerbrechlichen Prozellan-Ring in Gummi ein, so dass dieser nicht durch eine ungewollte Begegnung mit einem anderen harten Material beim Tragen zerspringt.
Heraus kommt die einzigartige Kombination von schwarzem Gummi und weißem Porzellan. Die Porzellan-Ringe bemalt Anna von innen mit unterschiedlichen Glasur-Farben, welche den schlichten Ringen einen überraschenden Akzent verleihen.
Begeistert hat mich neben den Ringen selbst, die Handarbeit, die dahinter steckt. Anna Kiryakova verkauft ihre Stücke in Läden in ganz Europa sowie in ihrem eigenen Online-Shop. Wer dort bestellt, für den fertigt Anna das gewählte Stück extra von Hand an – die Prozellan-Ringe als Unikat machen so ein tolles besonderes Geschenk.
Photos © Anna Kiryakova
What else can you do with porcelain other than Meissner tableware?
– Wonderful modern porcelain rings!
When I first saw the procelain rings by Anna Kiryakova I was totally amazed by the experiments of the artist and the looks of traditional precious material. As you might now already I get enthusiastic about an innovative use and combination of materials.
Anna Kiryakova startet off with rings made out of plain porcelain in different shapes and sizes, with glazing in different colors, with structures or without. The plain ring you see above is from her early work and one of her favorite pieces that the artist wears herself everyday. I also have to confess that after having tried all rings in her studio this is also my favorite one. I love the minimalistic timeless look simultaneously being huge in size and therefore outstanding.
Wearing the rings the material feels great as it takes on the warmth of the body after a little while. The porcelain feels soft almost like velvet and is surprisingly so much lighter than the rings look. Nonetheless the material is breakable when the rings fall down on hard ground or if they are ditched to some hard material while wearing. This brought Anna Kiryakova to the idea to combine the rings with rubber from bicycle tubes to prevent them from breaking.
The result is an extraordinary combination of black rubber and white porcelain. The porcelain rings are being painted by hand in the inner circle with glaze in different colors like gold, blue or silver which gives the minimalistic rings a nice twist.
Moreover I was really excited by the fact that Anna Kiryakova is creating all jewelry pieces that are ordered via her online shop uniquely for the customer by hand. This makes the rings a very special piece and unique gift for the beloved ones.