Porzellan-Ketten · Anna Kiryakova, Berlin
Anna Kirykovas' Experiment: Weißes Gold und Fahrradschläuche
15.11.2014
Die Kombination aus weißem edlem Porzellan und schwarzen derben Gummischläuchen mag auf den ersten Blick irritieren, doch ist es eine sehr gelungene Kombination aus Praktikabilität und Modernität. Praktisch zum einen, da es durch den dehnbaren Fahrradschlauch keine Verschlüsse an den Porzellan-Ketten bedarf und sich das stabile feste Porzellan dadurch um den Hals legen lässt und sich dort wunderbar anschmiegt.
Modern zum anderen, da die ungewöhnliche Materialkombination den Zeitgeist trifft. Materialien aus dem Alltag, bei Anna Kiryakova der Fahrradschlauch, werden zu außergewöhnlichen und in diesem Fall eher traditionellen Materialien wie Porzellan kombiniert. Vielleicht erinnert ihr euch an meinen Post, der die ungewöhnliche Kombination von Holz und Harz zu Schmuck beschreibt? In einer Zeit, in der wir bereits vieles gesehen haben, immer neue Produkte auf den Markt kommen sind junge Designer die Ersten, die an Neuem interessiert sind und mit innovative Materialkombinationen experimentieren.
So habe ich mich sehr über die Stücke der Künstlerin Anna Kiryakova gefreut und noch mehr, diese in ihrem Studio anprobieren zu dürfen. Sehr überrascht war ich über die Leichtigkeit des Materials und vor allem über den Klang der Prozellan-Ketten beim Tragen. Das Gefühl beim Tragen der Prozellan-Ketten macht definitiv den Unterschied zu Ketten aus gängigen Materialien. Das Porzellan nimmt nach kurzer Zeit die Körperwärme an, fühlt sich weich und einfach gut an. Und dazu der schöne Klang wenn die Ketten in Bewegung sind.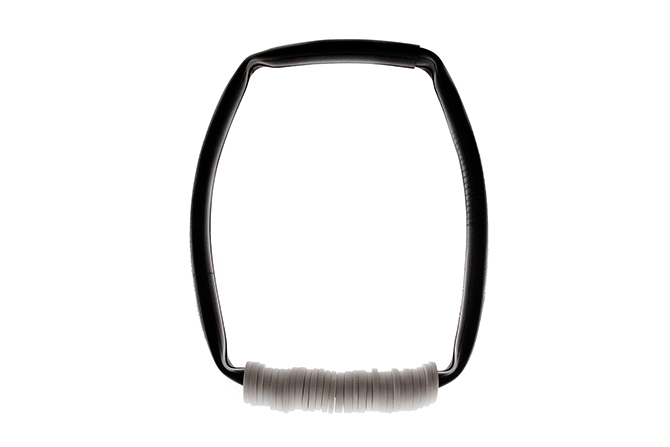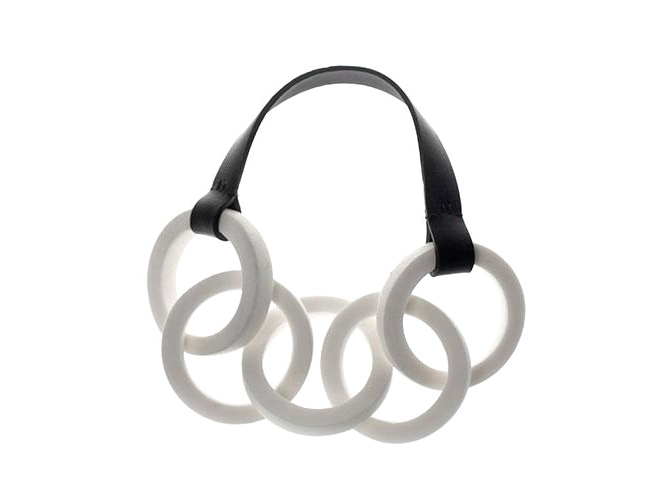 Photos © Anna Kiryakova
Ebenfalls sehr ungewöhnlich sind die Porzellan-Ringe von Anna Kiryakova aus reinem Porzellan oder ebenfalls in Kombination mit Gummi und farbigen Glasuren.
Anna Kiryakovas' Experiment: White gold and bicycle tubes
The combination of white precious porcelain and black rough rubber tubes from bicycles might irritate at the first glance. But actually the combination is very smart: practicability and modernity combine perfectly. On the one hand practicable as the elastic rubber tubes make a fastening on the porcelain necklaces needless. And on the other hand modern as the combination of unusual materials is meeting the spirit of the time: Materials from the every day life – like bicycle tubes – are combined with more traditional and precious materials – like porcelain.
Maybe you remember my blog post about jewelry made out of wood and resin as an innovative unusual combination of materials. In a time where we've already seen a lot and new products pop onto the market like mushrooms pop out of the ground young designers and artists are always the first experimenting with innovative materials and new combinations.
So I was really excited to find the jewelry pieces of Anna Kiryakova and moreover to try them on in her studio. I was surprised how light the material actually is and fascinated by the sound of the material while wearing it. The feeling of the porcelain makes definitely the difference to usual necklaces out of metal or leather. The porcelain necklaces take on the body warmth after a short time, feel soft on the skin and sound just great when it is in motion.
Also have a look at Anna's porcelain rings which are available in her online shop and are made especially for each customer order.