Metall-Colliers · Anndra Neen, New York
Colliers für moderne Kriegerinnen
03.10.2014
Das Label Anndra Neen wurde 2009 von den Schwestern Phoebe und Annette Stephens in New York City gegründet. Bei Schauspielern aus den USA sind die Schmuckstücke von Anndra Neen bereits sehr beliebt und einige Kollaborationen z.B. mit Harper's Bazaar und dem Designer Matthew Ames kamen mit dem Schmuck-Label bereits zu Stande.
Reisefreudig wie die Schwestern sind ist die Idee zu einem eigenen Schmuck-Label auf einer Reise nach Japan entstanden. So liegt es auch nicht fern, dass sie ihre Inspirationen aus der ganzen Welt ziehen: europäische Schmuck-Antiquitäten, alte ägyptische Motive, japanische Design-Elemente und Bauhaus Grafiken dienen als Vorlage zu neuen Entwürfen.
Alle Colliers sind stark durch grafische Elemente, meist durch die Linie geprägt. Dadurch erhalten die Halsgeschmeide eine sehr archaische Wirkung, die von der Einfachheit der Linie ausgeht. Bekräftigt wird die archaische fast kriegerische Wirkung indem die Colliers alle von Hand gefertigt werden und Unikate darstellen. Verarbeitet wird eine Mischung aus verschiedenen Metallen und Silber in ihrer Manufaktur in Mexico City.
Die metallischen Colliers sind definitiv für starke Frauen gemacht – für moderne Großstadt-Kriegerinnen unserer Zeit. Und dennoch mit Anklängen an vergangene Zeiten, sei es europäischer Barock oder das kriegerische Matriarchat der Amazonen.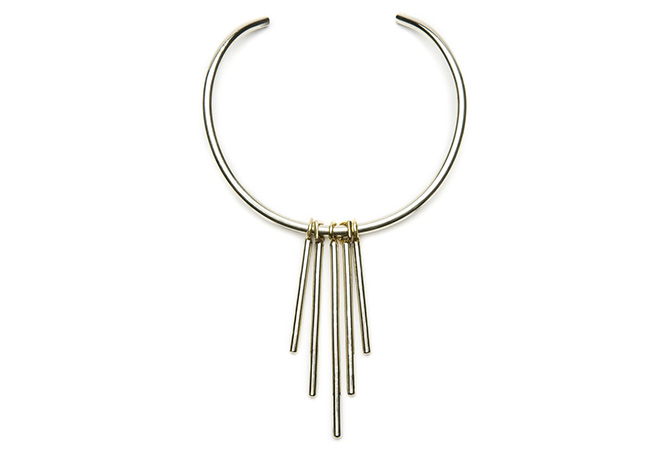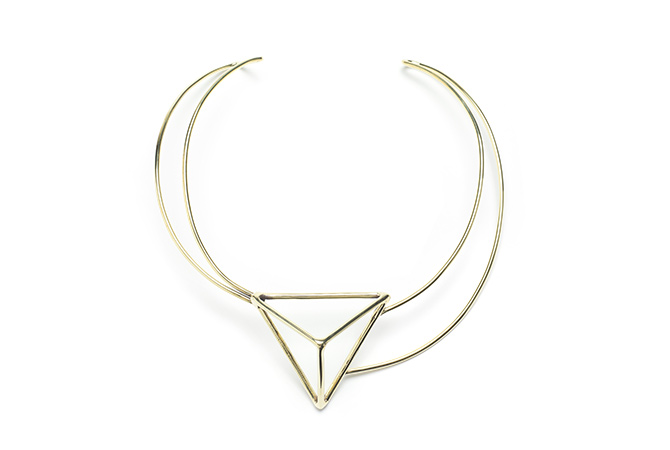 Chokers for modern female warriors
The jewelry label Anndra Neen was founded in 2009 by the sisters Phoebe and Annette Stephens in New York City. Us-american actors already love the jewelry pieces by Anndra Neen and the label already collaborated with Harper's Bazaar and the designer Matthew Ames.
The idea to start an own jewelry label came to mind while traveling Japan. Therefore it is not astonishing that the sisters derive their inspiration from different centuries and countries from all over the world: European antique jewelry, old Egyptian motives, Japanese design elements as well as graphics from Bauhaus form the basis of the jewelry creations.
All chokers are characterized mainly by graphic elements, strong lines, structures and patterns. Thereby the chokers receive an archaic expression deriving from simplicity and geometric shapes. All jewelry is handmade in a workshop in Mexico City, all pieces are unique. For the production Anndra Neen uses different metals, among them also silver.
The metal chokers are definitely made for strong women – for urban female warriors. And still carrying associations of ancient times and cultures like European baroque, Egyptian pharaohs or south american amazons warriors. Timeless jewelry with lots of historic appeal.
One response to "Metall-Colliers · Anndra Neen, New York"