Edelstein Ring · Sari Räthel, Deutschland/London
Ein Edelstein Ring mit Transparenzen
Der Edelstein Ring von Sari Räthel ist ein wirkliches Prachtstück. Der Halbedelstein Quarz kommt mit seinen Transparenzen und verschieden farbigen Einschlüssen so richtig gut zur Geltung. Der Edelstein Ring verbindet die traditionelle Steinschleifkunst mit modernen Ansätzen, die Steine mit ihren natürlichen Bruch- und Kristallkanten zu verarbeiten. Die Fassung des Rings nimmt dabei die Form der Quarz Stücke auf und fasst ebenfalls die einzelnen Quarzscheiben ein.
Der Edelstein Ring nimmt im Gesamtbild die Form eines Gebirgszuges mit seinen sonnig farbig schimmernden Südhängen und seinen schattigen Nordhängen auf.
Ein sehr edles, zugleich außergewöhnlich und modernes Schmuckstück! Die Designerin Sari Räthel interessiert sich neben Schmuckdesign auch für Fotografie und Bildhauerei, auf ihrer Webseite stellt sie einige weitere Arbeiten aus.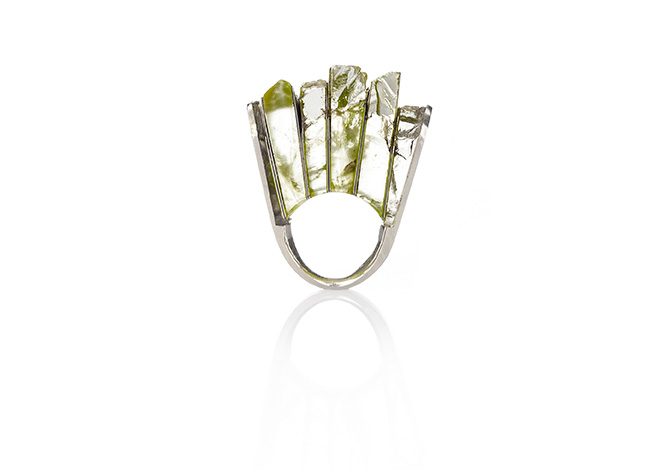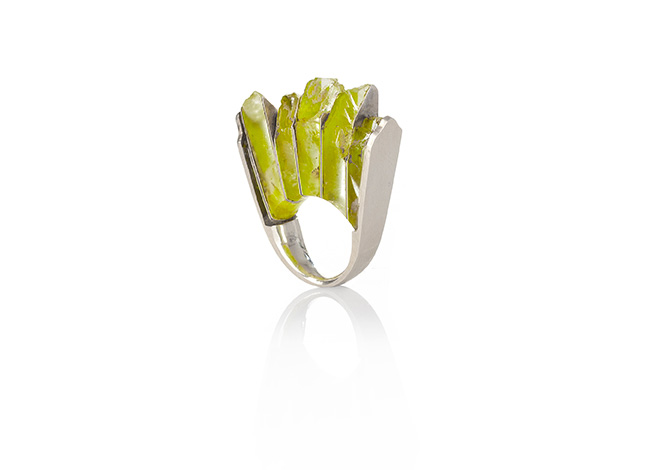 Transparency and colorful lights
The gemstone ring of Sari Räthel is a real beauty! Made out of quartz and silver the gemstone shows his transparencies and different colorful enclosures. By combining traditional gemstone cutting with the modern attitude to leave gemstones raw and edgy the jewelry designer creates a wonderful modern ring. The silver frame of the ring borders the form of the gemstone pieces and gives them the structure of a fan.
In its entirety the ring resembles a mountain range with is sunny colorful southern mountain side and the shady northern hillslopes. Sari Räthel created a classy, extraordinary and modern piece of jewelry!
Besides jewelry design Sari is also interested in photography and sculpturing, more of her work can be seen on her website 'Sari Räthel Jewelry'.