Big Fish Armband · Karin Roy Andersson, Schweden
Ein Armband für Meerjungfrauen
Karin Roy Andersson ist von sich wiederholenden Bewegungen fasziniert. Einerseits ist sie von ihrer Leidenschaft, dem Ausdauerlauf inspiriert andererseits von sich wiederholenden Elementen, welche die Natur offenbart. Seit sie klein ist, gehören Fische zu ihren Lieblingstieren. Deren Schuppenstruktur stand Pate für das Armband aus der Kollektion von Karin Roy Andersson.
Viele Künstler z.B. Der Isländer Olafur Elisasson nützen die Wiederholung von Elementen und kreieren dadurch Objekte, die auf das Publikum sehr anziehend wirken, indem der Betrachter das große Ganze erst in der Summe der Einzelteile wahrnimmt. Ein gewisser Reiz scheint für Menschen, die als soziale Wesen erst im Zusammenspiel mit anderen aufgehen, im Anblick des einzelnen Elements im großen Ganzen zu bestehen. Nicht nur bei Konzerten oder Demonstrationen sondern auch beim Anblick von Kunstwerken und Objekten wie dem Armband von Karin Roy Andersson.
Karin greift nicht nur auf dieses soziale Prinzip zurück, sondern auch auf die Idee des Upcyclings. Die einzelnen Schuppen-Elemente bestehen aus Plastik, das bereits sein Dasein als Eisbecher, Blumentopf oder Shampoo-Flasche verlebt hat und nun in Form eines Armbands weitere Verwendung findet. Die Idee des Upcyclings basiert darauf, dass statt neue Ressourcen verarbeitet werden auf bereits vorhandene zurückgegriffen wird und neue nur sehr sparsam Verwendung finden.
Erfahre hier mehr über Upcycling und tolle Ideen Ressourcen aufzuwerten.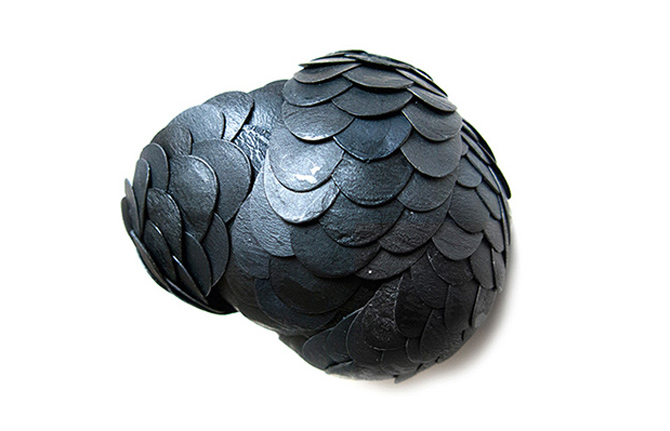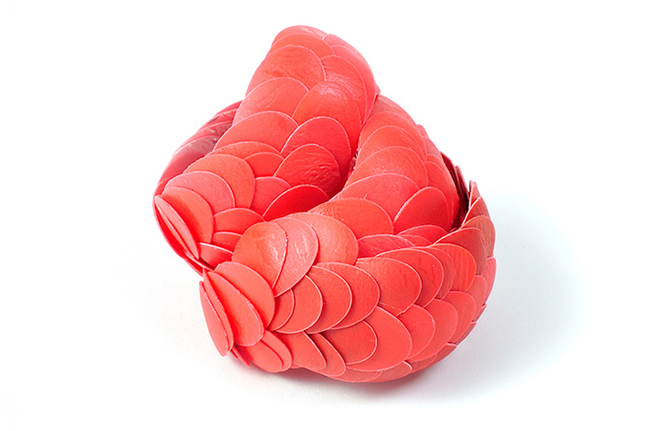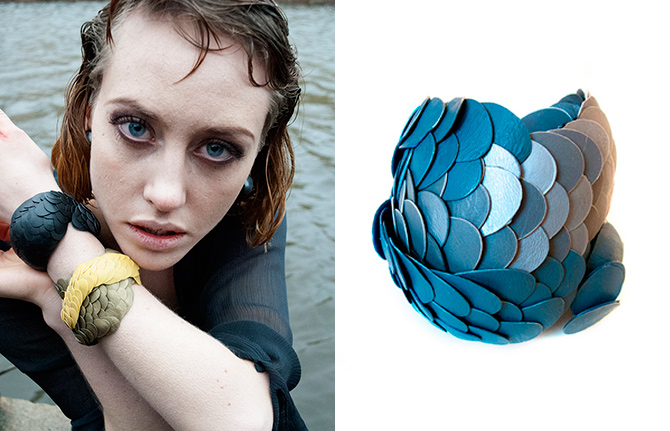 A bracelet for a mermaid
Karin Roy Andersson is fascinated by repeating movements, not only is she inspired by her passion for long distance running where the repeating movement is a core element but also by nature which offers a lot of repeating patterns. The inspiration for this collection is derived from fish and their skin structure of scales.
A lot of artists, for example Olafur Eliasson, play with repeating patterns and thereby constructing an object which is very attracting as only in the sum of all the small pieces the final shape can be perceived. Humans as social beings seem to love the principle of forming a whole out of small elements.
Similar with the jewelry of Karin Roy Andersson: small pieces like fish scales for which old plastic cans were recycled are piled up and form bracelets, earrings and chains. One can feel like a mermaid wearing the bracelet – feeling some of the excitement of exploring the deep ocean.
The bracelet is not only nice to wear and to look at but also a way to upcycle used plastic instead of using more valuable resources that might end up as waste in the ocean. With this idea behind Karin Roy Andersson follows the upcycling concept of using already existing materials and keeping the share of new materials relatively low.
Read more about upcycling here.