Beton Ringe · 22 Design Studio, Taiwan
In Stein gegossen
Schon bevor Schmuck aus Beton auf den DIY-Blogs zum Selber machen erschien, experimentierte das Designer Duo Sean Yu und Yi-ting Cheng von 22 Design Studio mit Formen und Produkten, die sie in Stein gossen. Die Designer arbeiten in Taipei und sind sichtbar durch die Betonbauten der Stadt inspiriert zu ihrem Design gelangt. Neben Schmuck entstanden auch Schreibgeräte und Uhren.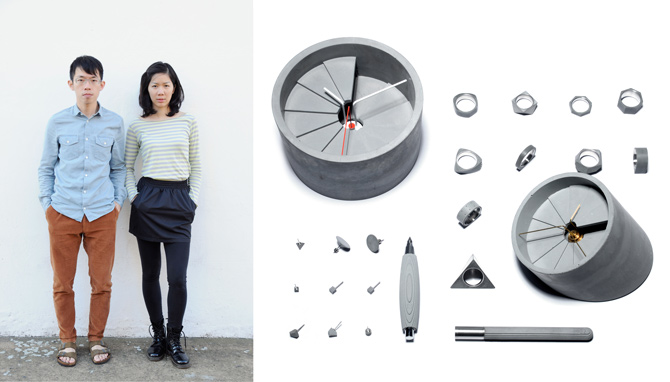 Doch am meisten faszinieren mich ich die Beton Ringe – der graue Stein unterstreicht die geometrischen Formen. Die Ringe wirken durch die Kombination von Beton, Silber und geometrischen Formen avantgardistisch. Das kühle Material macht die Beton Ringe eindeutig wie geschaffen für die moderne urbane Frau.
Die Ringe sind geschliffen, dennoch ist die Oberfläche nicht perfekt glatt, sondern so wie man Beton von unverputzten Hauswänden kennt mit Luftbläschen und Unebenheiten durchzogen. Aber genau das macht den Charme des Materials und damit der Beton-Ringe aus. Harte geometrische Formen, schweres Material und dennoch unperfekt in der Beschaffenheit. Diesem reizvollen Gegensatz kann ich mich nicht entziehen, zumal der Ring sich mit dem Tragen und Umwelteinflüssen verändert.
Aber seht euch selbst die Ring-Kollektion an und findet euer Lieblingsteil. Im Online-Shop von 22 Design Studio können das Lieblingsstück auch bestellt werden.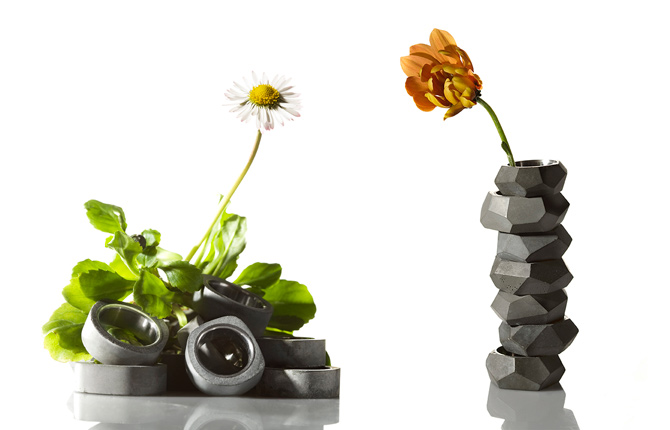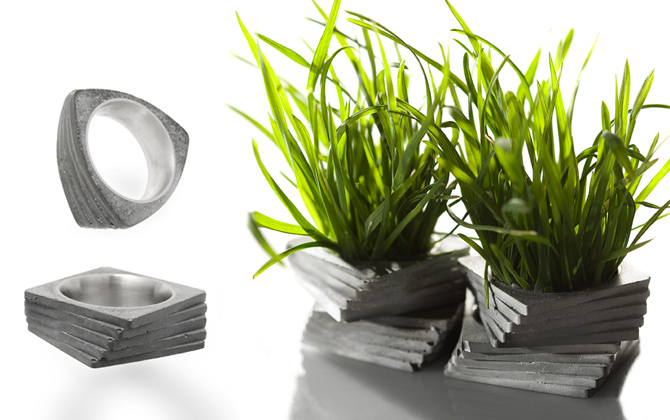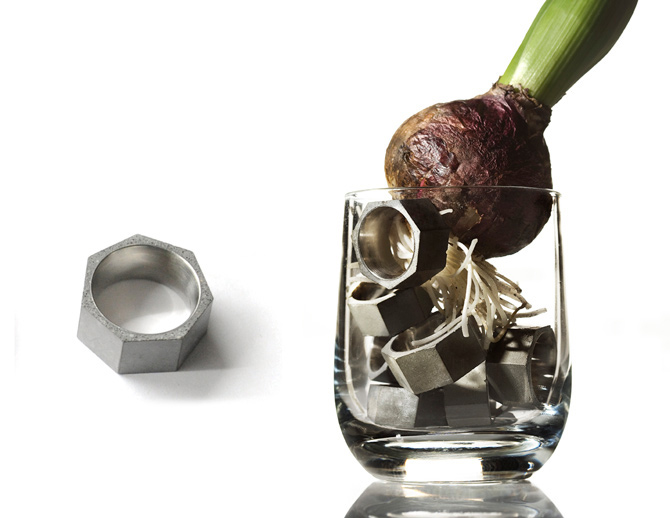 Rockin' stone
Already before all the DIY blogs commented on jewellery made out of concrete the design duo Sean Yu und Yi-ting Cheng from 22 Design Studio created shapes and products out of the heavy material. The desingers work and live in Taipei and are visibly inspired by the concrete buildings of their hometown. Besides jewellery they also design writing utensils, clocks and watches.
But most of all I am fascinated by the concrete rings – the grey stone stresses the geometric shapes and makes them even more edgy. Through the combination of concrete, silver and the geometric shapes the rings become avantgarde. The concrete rings are definitely made for the modern urban women.
Even that the rings are polished the surface is not perfectly smooth but like raw concrete walls with small air bubbles. Unevenness is characteristic for the material. And exactly this makes the rings charming: hard geometric shapes, heavy material and though imperfect and unique in its appearance. The jewellery pieces even change their appearance with time as environmental influences like water will show slight changes on the concrete rings.
But have a look at the photos yourself above and choose your favorite piece. In the online shop on the website of 22 design studio the favorit piece(s) can also be ordered.