Armreifen in Perfektion · UNCOMMON MATTERS, Berlin
Kreisrunde Perfektion: Armreifen von UNCOMMON MATTERS
15.01.2014
Amélie Riech von UNCOMMON MATTERS besitzt das Talent die Form auf ihr Wesen zu reduzieren und damit die perfekte Formgebung zu schaffen. Für die Frühjahr/Sommer 2015 Kollektion "New Curve" hat die Designerin sich den Kreis vorgenommen – diese runde, in sich selbst geschlossene Form, die Vollendung, Harmonie und Schlichtheit symbolisiert.
In Kombination mit verschiedenen Materialien experimentiert die Gründerin von UNCOMMON MATTERS mit der Kreisform, Linien, matten und glänzenden Oberflächen sowie mit negativen Flächen. Ich war überrascht zu hören, dass neben der Geometrie die Typographie eine weitere Inspirationsquelle der Designerin für die Kollektion gewesen ist. Aber klar, das macht Sinn: Mit den Flächen und Linien erinnern die Armreifen etwas an eine moderne Typographie mit dezenten Anklängen der Art Déco Ära.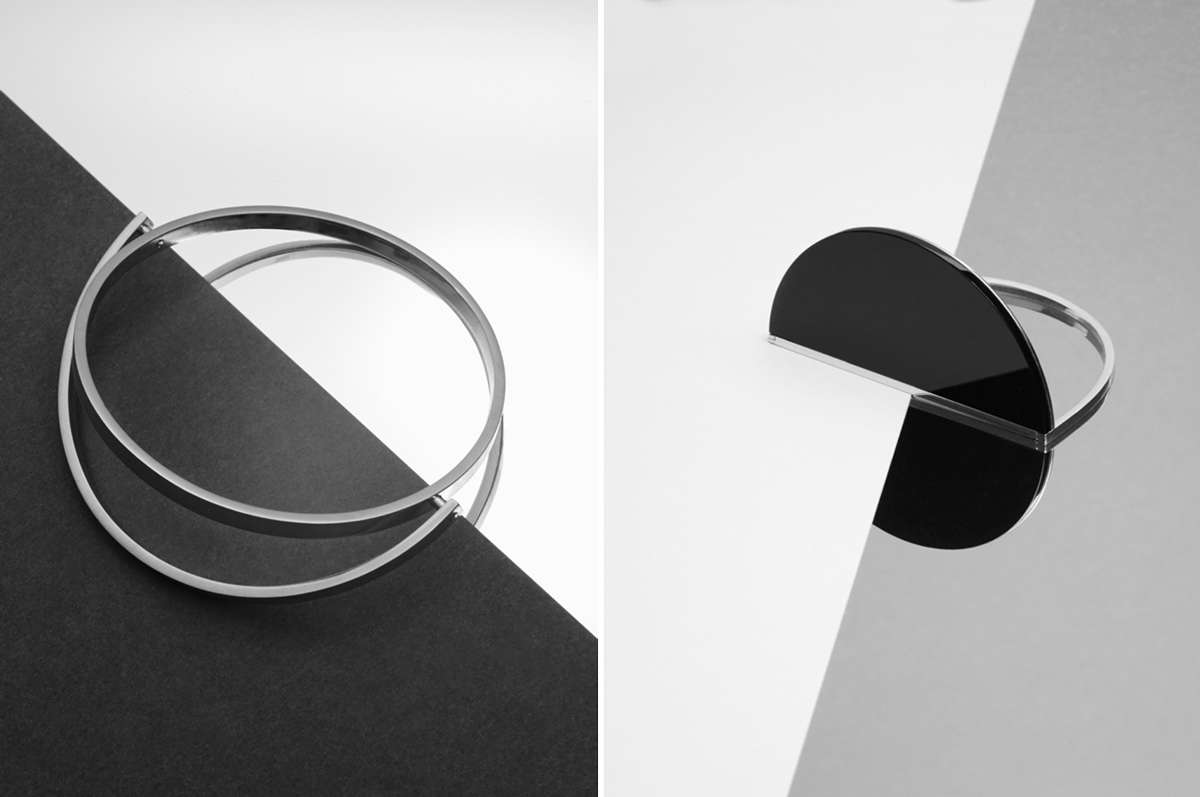 Circular bangle (available in uni or bi color)                           Half Circle Bracelet (plated metal, onyx)
Zudem experimentiert UNCOMMON MATTERS mit Materialien und verwendet eine Mischung aus Gold und Silber als auch schwarz und weiß beschichtetes Metall. Rotgold und mit Silber beschichtetes Messing finden ebenso ihre Verwendung in der Kollektion. Die matten und glänzenden Flächen bestehen neben den genannten Edelmetallen aus schwarzem Onyx und weißem synthetischen Achat.
Das Ergebnis sind traumhafte Armreifen, die immer elegant und minimalistisch erscheinen und in höchster Qualität gefertigt sind. Auch wenn die Armreifen auf jegliche überflüssige Dekoration verzichten und in ihrer Form sehr schlicht sind wirken sie sehr feminin. Schon der Schriftsteller Giacomo Girolamo Casanova (1725 – 1798) stellte fest: Schönheit besteht in Harmonie, die immer eng mit Schlichtheit verbunden ist – dass er recht hat, beweisen die Schmuckstücken von UNCOMMON MATTERS.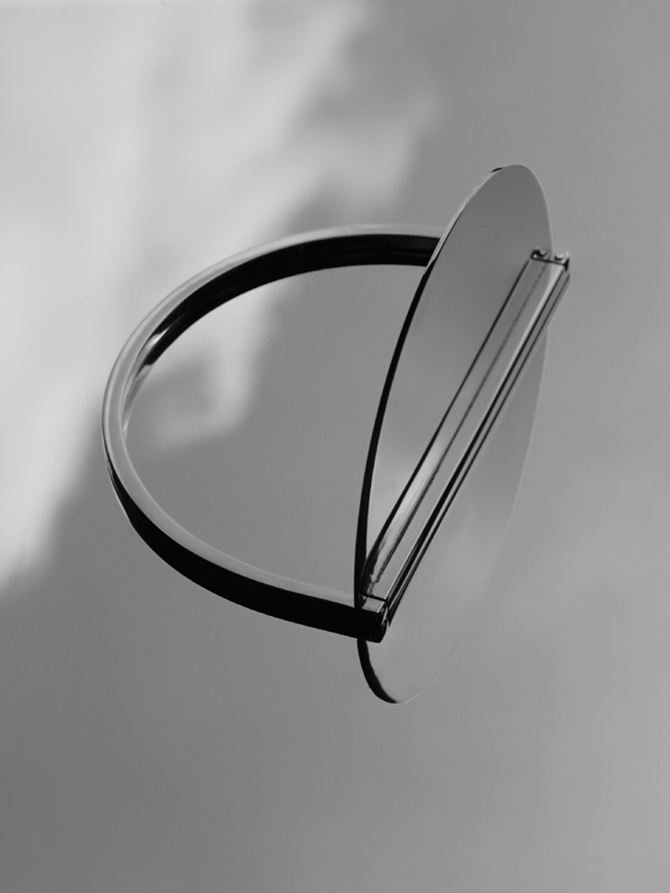 Half Mirror Bracelet (gold, rose-gold or silver-plated metal)
Mirroir Bracelet ((rose-)gold or silver plated metal)               Onyx Circle Bracelet (gold-plated metal, onyx)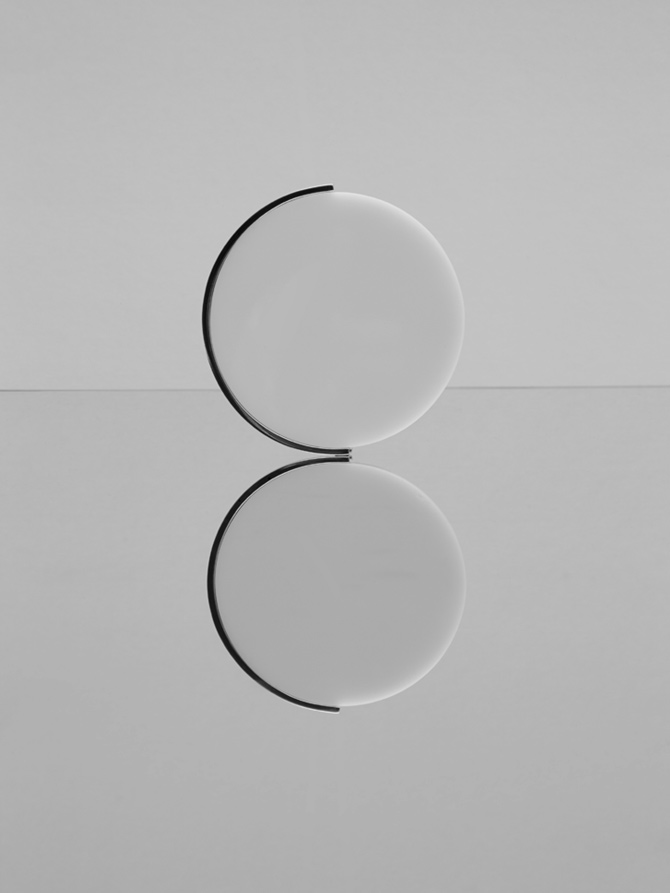 White Circle Bracelet (gold-plated metal, synth. agate)
All photos © UNCOMMON MATTERS and photographed by Matthias Weingärtner
Circular perfection: Bracelets by UNCOMMON MATTERS
Amélie Riech from UNCOMMON MATTERS has the talent to reduce the shape to its essentials and thereby creating the perfekt design. For the spring/summer 2015 collection "New Curve" the designer set focus on the circle – an autonomous shape symbolizing perfection, harmony and simplicity.
In combination with different materials the founder of UNCOMMON MATTERS experiments with circular shapes, outlines, matt and shiny surfaces as well as  negative space. I was surprised to find out, that one of Amélie's inspiration for the collection came from typography. And it perfectly makes sense: With the surfaces and outlines the bracelets look a bit like a modern very round typography with a tiny influence by the Art Déco era.
Furthermore UNCOMMON MATTERS experiments with materials, uses a mix of gold and silver as well as black and white powder coatings. Also rose gold and silver-plated brass finds its way into the collection. The black and white surfaces are shaped by black onyx and white agate.
The results are beautiful bracelets which appear elegant and minimalistic – and are always manufactured in high quality. Even that the bracelets are simple in their shape and without any unnecessary decoration the jewels are very feminine in their appearance.
The writer Giacomo Girolamo Casanova (1725 – 1798) already spoke out the wise words "Beauty exists in harmony which is related closely to simplicity" – he was and is so right about this and the jewels by UNCOMMON MATTERS just prove this.